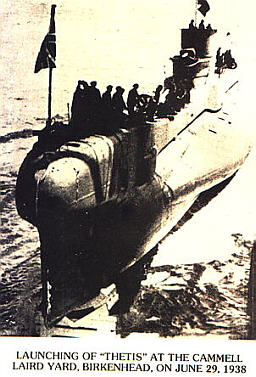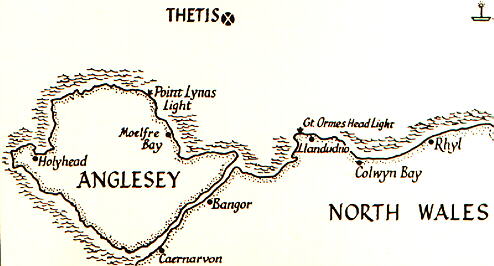 Displacement: Between 1090 tons, surfaced to 1575 tons submerged
Dimensions: Length – 270ft    Beam – 26.5 ft      Draft – 12ft
Speed:  Surfaced – 16 knots.  Dived – 9 knots
Armaments:  1 x 4″ Gun and 6 x 21″ torpedo tubes
Complement:  Five officers and 48 men
"Thetis" was launched on June 26th 1938 and was Commissioned on March 4th 1939. After completing dockside and basin trials, she proceeded to the Clyde area for sea and engine trials on April 30th. However, before the diving trials could be carried out in the Garelock, the fore – planes jammed at hard dive, and "Thetis" had to return to Cammell Laird to have the fault rectified. The Admiralty then gave approval for the diving trials to be carried out in Liverpool Bay at a later date. During May, torpedo equipment trials were carried out, after which the tubes were given a coat of bitumen paint and enamelled. Unfortunately, the bitumen solution blocked the test-cock holes were given a coat of bitumen paint and enamelled. These were then enamelled over, and it was an error which was to have far reaching and tragic consequences. Everything was considered to be in order for her first dive when "Thetis" left Birkenhead at 09.40 on June 1st. As well as her normal crew of 53, she had an extra 50 people on board – some observers and others who would be involved in the trials, plus two caterers and a Mersey Pilot. She was led out to sea by the tup "Grebecock" which was to act as escort for the day. "Thetis" reached her diving position at 13.40, and a signal was sent that she would be diving in position 54 45N 04 00W for three hours. "Grebecock" took up station half a mile away as "Thetis" attempted to dive. Lieut. Coltart on "Grebecock" was a submariner himself and was surprised at the length of time it took for Thetis to go under the surface of the water. On board the "Thetis" it was quickly apparent that something had gone terribly wrong. There was uncertainty as to whether No's 5 and 6 tubes were flooded, and Lieut Woods decided to check whether the tubes were full of water or not. But because the test-cock holes were clocked, he got no warning that the bow-cap of No.5 tube was open to the sea. As soon as the rear door was opened, an uncontrollable rush of water entered the boat.  Two compartments were flooded, and she sank in 160ft of water. In the stricken submarine, valiant attempts were made to get into the tube space to close the bow cap, but without success. While waiting for surface craft to arrive, it was decided to get the stern as near the surface as possible to reduce the pressure on those escaping. Due to poor communications, and the fact the "Grebecock" had drifted away from the diving position "Thetis" was not discovered until 07.45 on June 2nd. About 18 feet of her stern has sticking out of the water, but despite attempts to hold her up, she sank again after only four men had managed to escape. They were Captain Oram, Lieut Woods, Leading Stocker Arnold and Mr. Shaw, a Cammell Laird engine fitter. At 16.10 on Saturday June 3rd, the Admiralty finally announced that all hope of further survivors must be abandoned. after several months and a mammoth salvage operation, "Thetis" was first beached at Traeth Bychan, and then towed to Holyhead. Forty-four of those lost were interned in a mass grave in the town, where a memorial was dedicated on 7th November 1947. The "Thetis" was eventually taken back to Birkenhead, and after an extensive rebuild, was re-commissioned as "HMS Thunderbolt". She sailed on her first operational patrol on December 3rd 1940. On March 14th 1943 she was depth-charged and sunk by the Italian "Cicogna" off Cape San Vito, Sicily, with the loss of all hands. After the accident in Liverpool Bay, the course of Inquiry failed to find how, when or by who the No.5 bow cap was opened, but as a result, a clip was fitted to all rear torpedo tube doors to prevent a similar disaster ever happening again. It is called the "Thetis Clip".