Thomas Ellis School

THOMAS ELLIS was born in 1711/12, the second son of Edward Ellis Galltfelyd in Fflintshire. He was destined for the Anglican priesthood in Wales, and in 1727 attended Jesus College, Oxford, where he graduated B.A. in 1731. He was elected Fellow of the College and retained the title until 1761. He was awarded his BD in 1741, just four years after coming to Holyhead as a lecturer (or curate). His salary was £50 a year. He spent the next 22 years in Holyhead as a priest Unfortunately there is no known portrait of Thomas Ellis. We do know, however that from letters written by William Morris (1705-1763) a good friend, that he was a thin man, who wasn't in particularly good health. His interests included gardening, playing the harp, literature and antiques, collecting fossils, and he also enjoyed his regular pinches of Phoenix Snuff. The welfare of the poor people in the parish was of great concern to Thomas Ellis, so much so that he distributed alms to the needy, sick and to large families. Ellis had a profound effect on the lives of the people. Herring fishing was an important event in Holyhead so at the start of each season Ellis would conduct a special service of blessing on the beach. He moved "Wake Sunday" (Sul Y Creiriau) from first three Sundays in July to St. James's Day (July 29th). He put an end to the drinking, debauchery, feasting, fighting and cursing by arranging competitions and races for the parishioners and he gave the winners silk ribbons as prizes. He showed great kindness and forgiveness, and in 1753 he and William Morris sent a gallon of butter to Walton where Goronwy Owen the poet (1723-1769) had been appointed curate. Thomas Ellis helped with some proof reading of the S.P.C.K Welsh Bible in 1748. He dispatched 1070 bibles, 664 New Testaments and many Prayer Books in Holyhead.

Ellis became good friends with Madam Ann Owen of Penrhos who would liaise between Ellis and her brother Edward Wynne (1681-1755) who was the Chancellor of Hereford Cathedral. He paid for the Holyhead Market Cross in 1743,and Ellis obtained the stone from Fflintshire to set it up Also in 1743 Ellis began collecting funds for Holyhead's first school Eglwys Y Bedd, which was in ruinous condition (It can still be seen today in the Churchyard of St. Cybi's Church in the middle of Holyhead's shopping centre). He started tapping Chancellor Edward Wynne for funds towards the restoration, and regular reports were sent to the Chancellor of how the money was being spent. By October of 1746, the walls had been plastered, but the building had no roof, and the large window was unglazed. By September 1744, the roof was in place, and a large oak table for the school was purchased. He did not have any funds to run the school and so in 1746 wrote to Ann Owen to ask if her brother the Chancellor would be offended by a volunteer Master being put in the school for the time being. The building stood empty until 1748, when the jubilant Ellis wrote in the Parish Register that "Dr Edward Wynne of Boderwyd gave by a Bond dated November 25th 1748, the sum of six score pounds sterling, towards the endowment of the school in the Churchyard of this Parish. The interest of the said money is to be paid ye Schoolmaster yearly (excepting what goes to the repair of the school) on ye 24th day of November for instructing six poor boys of the parish". The boys were taught to read, write and cast accounts by John Edwards of Bangor. He gave up his post in 1761 then served as Church Warden in 1762-3 to run a shop. He died in 1768. He was very sadly missed by all the people in his Parish. Ellis had left Holyhead in 1759, for Nutfield in Surrey where he was appointed a Justice of the Peace. He missed Holyhead and craved for any news from his friends here. Ellis married Mary Bristow, and they had two children – Owen and Mary He never returned to Holyhead, and died in Nutfield on February 23rd 1792, aged 80 years. Leslie Owen was appointed as Master of the school in 1761. Following his death it is probable that Richard Owen (1751-1828) who lived in the Waterside area of Holyhead was appointed a master, and that he held the position for forty years, earning £6 a year! The affairs of the school were at a very low ebb by 1816.
The BELL of the National School has been returned to Thomas Ellis School, where it is proudly on display for all to see in the foyer of the school. It served for many years at St. Elbod's Church. It was renovated, cleaned and mounted on a special stand at Anglesey Aluminium at Holyhead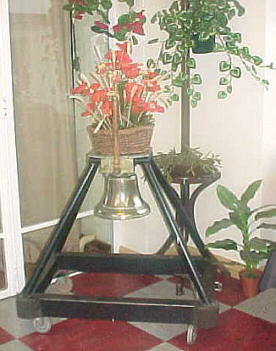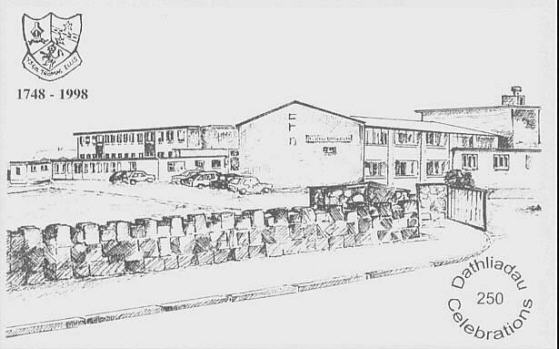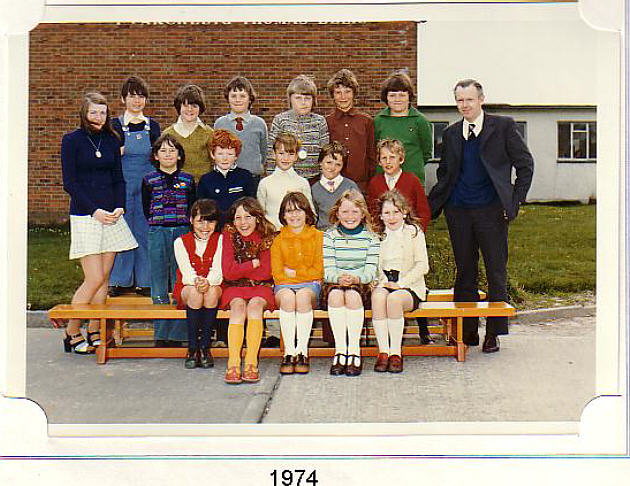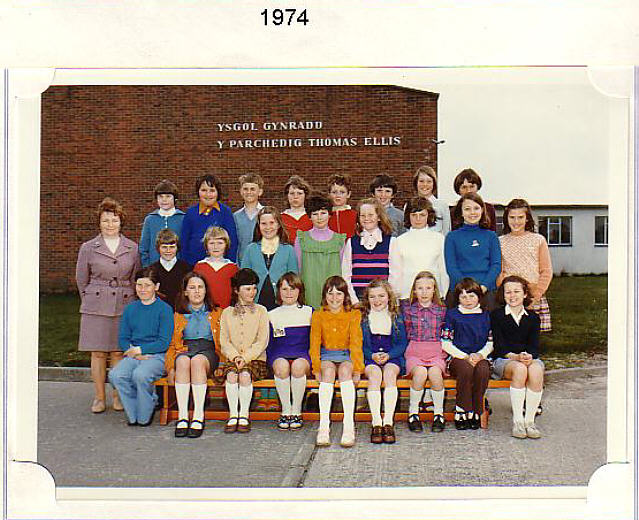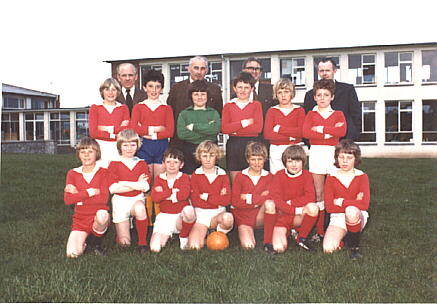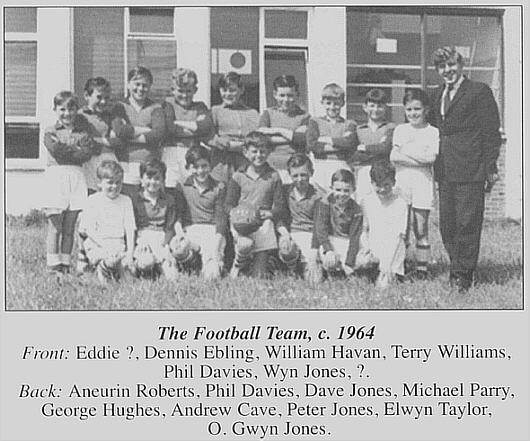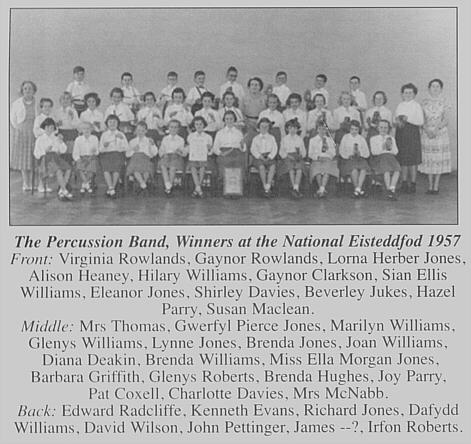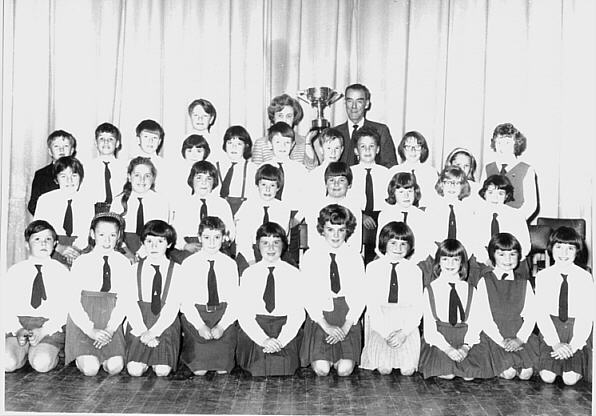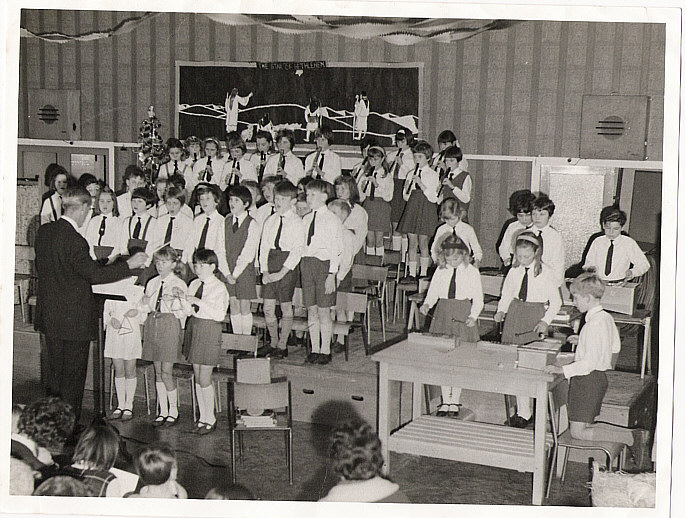 MRS. ALISON MONCUR-JONES was the headmistress who took Ysgol Y Parch Thomas Ellis into the new Millennium Mrs Jones succeeded Mr Gareth Jones in 1997. She was educated at Llangefni Secondary School, and from there she went to the University at Bangor, Gwynedd. There, she gained her Degree in Sociology B. A. with Honours. From there, she taught in the primary school at Caergeiliog, Anglesey, and then became Infant co-ordinator at Thomas Ellis primary school – a post she held for three years.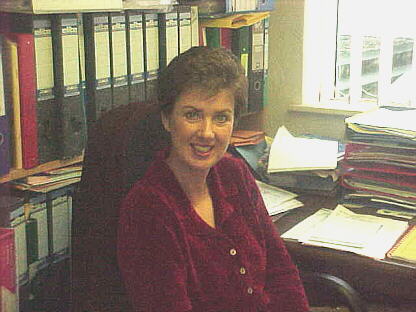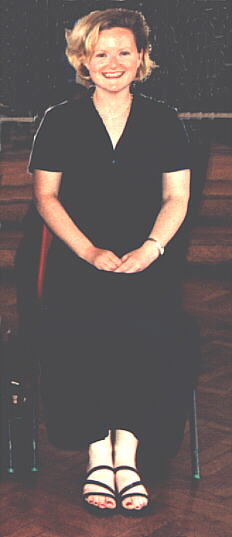 LLINOS VAUGHAN ROBERTS, was a teacher at Ysgol y Parchedig Thomas Ellis for over a decade. She writes: Throughout my won schooldays and at University I was fortunate to have good, enthusiastic sports teachers who encouraged me to do my best always . When I started on my own teaching career in 1991, I was determined that the sporting successes of the school would continue by encouraging the children to .take part in all sports, and do their best at all times. Sporting activities give children of all abilities the opportunity of working together as a team, or of competing with each other on equal terms. Sports improve fitness, and allow children with Special Needs to express themselves. For the first five years at the school I was responsible for the netball and athletic teams,whilst the headmaster taught rugby and football. I also developed the school's Scheme of Work for K5's 1 and 11, bearing in mind the abilities and interests of the children. The netball teams practised weekly and showed admirable dedication, gaining notable successes in winning the Holyhead Tournament twice, and the Anglesey Schools Sports Association Tournament once. In 1997, they reached the finals of the Gwynedd Schools Championship. Under the supervision of the headmaster the football and rugby teams enjoyed similar successes. During the last two years, I have been entirely responsible for the organisation and development of all aspects of sporting life at the school. I am very fortunate in this that I have the help and expertise of parents namely Mr. Cliff Jewell, and Mr. Graham Murtagh and Father Dylan of St. Cybi's Church, who all give of their time to coach the football and rugby teams. Again the teams have enjoyed successes – most notable winning the Albert Owen football tournament in June. The boys worked very hard and showed great determination to win this trophy. On a personal level, it was with great pleasure that I accepted the role of organising the Anglesey Schools Sports Association netball tournament. This tournament was held over three days at Plas Arthur sports centre in Llangefni. The overall standard of netball was excellent and the tournament was successful. I will also be arranging the tournament this year and I am confident that the schools will again demonstrate the same enthusiasm and excellent standard of play.I hope that sports will continue to be an important part of school life in the future as participation will mature qualities in the children which are essential in later life namely tolerance, and fitness.
FOOTBALL 'A' TEAM – FOOTBALL 'B' TEAM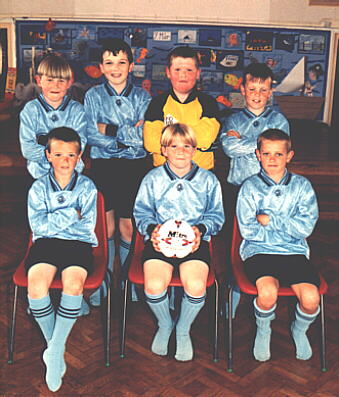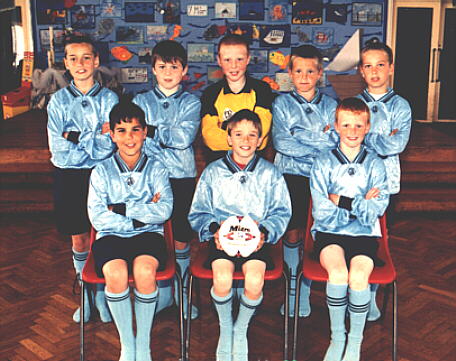 RYGBY TEAM AND ROUNDERS TEAM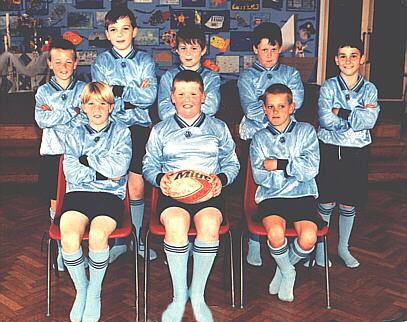 NETBALL TEAM