Congratulations to Mary Parry on receiving her M.B.E from Princess Anne on 24th November 2009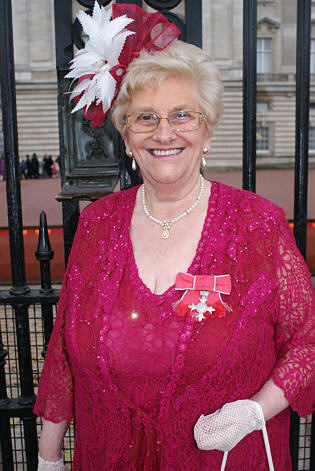 ONE of Holyhead's most popular and well-known daughters, Mary Parry went to Buckingham Palace last week to receive her MBE from Princess Royal, Princess Anne. Mary who runs Parti Dawns Lan Mor and Mary Parry Players received notice of her award in the Queens birthday honors list for her services to charity and entertainment in Holyhead. After leaving Buckingham Palace last Tuesday she was welcomed at the gates by cheering members of her dance troop, who had told onlookers all about her, and they cheered too. She has even received letters of congratulations from pop stars, whom her music producer son Nigel Durkan has worked with. Mary said: My daughters Angela and Tricia came with me to the palace as well as one of my oldest friends, Joan Bach. I had to get there early as you have to go through a sort, of course, that explains how you conduct yourself It was a wonderful experience. It's very strange to try and explain. In a way you need to be feeling it yourself, feel humble and excited at the same time. Princess Anne took her time and spoke to everybody. When it was my turn, she knew all about me and told me this is hardly a stage, she asked me how I had got involved in music and shows. I explained that I started as a girl in 1947 and had just got on from there. I also told her how my girls had performed for Prince Charles and Prince William when they have visited Anglesey. When I walked out after the ceremony everyone was cheering. The girls had dressed in costume and were waiting at the gates. They had told the visitors about my visit. We then went on to meet Albert Owen MP at Westminster. Its been an amazing few months I've had congratulatory cards from many people including former Spice Girl Melanie C and Liz McLarnon who was part of Atomic Kitten. The Mary Parry Players will be putting on a pantomime after Christmas at Holyhead Townhall. Pantomania will be an extract of the best scenes from several pantomimes including Aladdin, Cinderella, and Snow White. Funds raised will go to charity. Dates are yet to be confirmed. Next year, Parti Dawns Lan Mor will be jetting to perform in Canada. To see more photos go to www.celebrations-disco.com then go to the Presentations room – Photos not to be missed!!!
A very big thank you to Air Commodore Michael Milligan C.B.E for making the nomination
Letters of support
Ieuan Wyn Jones AM
Air Marshal Sir Robert Wright KBE
Sir Richard Williams – Bulkeley BT
County Councillor Robert Parry OBE
County Councillor Robert Llewellyn Jones
Air Commodore Edward Jarron MA
John Cave MBE
Jack Abbott MBE
Alun Owen MA
Dylan Rees
Marilyn Walsh
Heather Abbott
Penny Morgan
Mrs. M. Doutc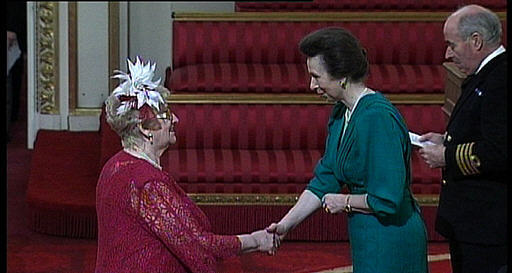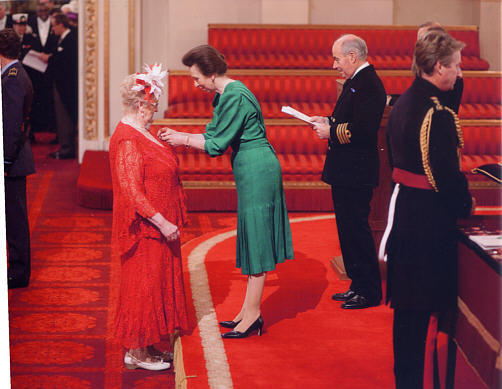 Jimmy Williams (Erw)
There is no reference on the internet about the historic charity row from Dun- Laoghaire to Holyhead in 1972 up until now. It was by chance meeting Jimmy Williams, a Holyhead man who happened to be home on holiday from Austrailia, where he and his family have lived and worked for over 30 years, told me about this event. Thank you, Jimmy, for the photos and newspaper clip above!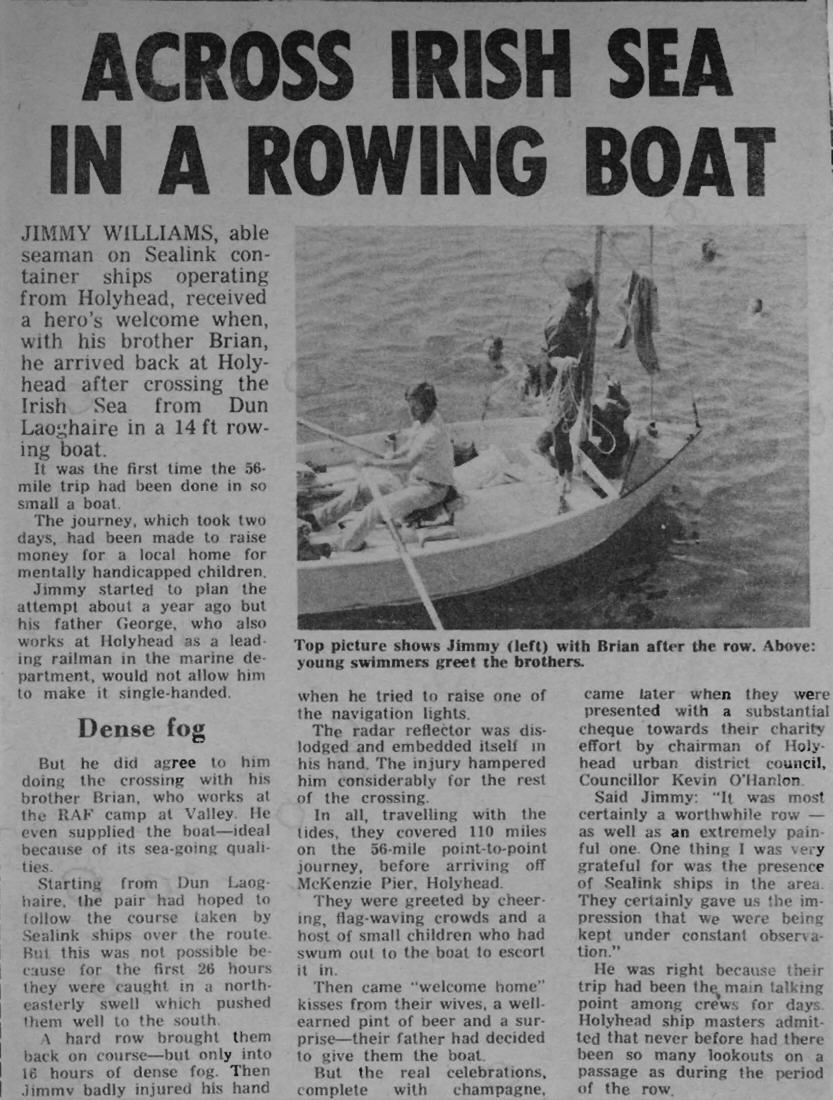 JOHN HENRY HAWKINS
(Born 14 August 1880 – Died 1st June 1940)
(Lost At Sea – The Scotia – Dunkirk)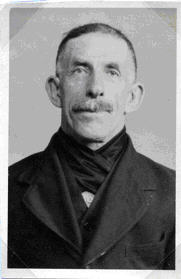 John was the eldest son of Elizabeth (nee Bellis) and William Henry Hawkins. John's grandfather, Isaac, had moved from Plymstock, Devon in 1850 to work as a quarryman at Holyhead Mountain. John's father, William Henry, worked as a labourer for the local council, working on the breakwater, roads and bridges. The family had lived in Liverpool for a short time, but had moved back to Holyhead by the time John was a teenager. As a young lad, John was employed as a "houseboy" with Captain Clay and it was Captain Clay who helped to get him employment on the ships. He joined the L.N.W.R. on Saturday 24th March 1899. The ships he served on were Slieve Bawn, Rathmore, Arvonia and The Scotia. He particularly enjoyed working on The Scotia where he worked in the Engine Room. He was honoured to show the Comedy Duo, Stan Laurel and Oliver Hardy around the engine room when they were en-route to Dublin during their heyday. He was a "dapper" little man and a staunch member of the English Methodist Church, Holyhead. At the age of 30, he married Maud Mary Nettle on 23rd November 1910. She was a quiet, unassuming little lady. John and Maud made their home at 11 Armenia Street. John played the melodian and loved to listen to organ music. Family holidays were spent in Liverpool and his wife and two daughters, Maudie &amp Cassie was often dragged along to St George's Hall to listen to organ recitals and to visit the art galleries. When the call came in the Autumn of 1939 for 'The Scotia to be commandeered to carry out"war work", John was determined to sail with "her"- he volunteered to go despite the fact that he was near retirement age and was recovering from a bad back. John wrote moving letters to his wife and two daughters one of the letters was written to his eldest daughter, Maudie, who was a nurse at Denbigh Psychiatric Hospital the postmark was 23rd May 1940, 5.15pm. Southampton. It reads,
My dear Maudie
I am sending you these few lines hoping you are quite well as I am at present. I was very glad to hear from you my Dear and at the same time, it gives me great pleasure to hear that you passed your exam. You must have worked very hard and you are a good girl. I feel it a great great honour to share a daughter like you but I am sorry to say that it will be some time before you see your Dad again unless something turns up very soon. We are very busy at present going from place to place but I hope this trouble won't last very long. I am longing to get back to your mother. I suppose you will get a bit of a holiday now. Well make the best of it and have a good time.
This is all I have to say at present.
This from your loving Dad xxxx
John H. Hawkins (Greaser)
C/O R M S Scotia
South Western Hotel
Southampton
He knew that he might not see his family again – sadly he did not come home.
Article by Mrs Margaret Breedon, Grandaughter [Daughter of Cassie (nee Hawkins)]
Mr James Walker
The picture shows James Walker aged 85 of Maes Hyfred Bungalows on his visit yesterday 4 February to his beloved Anfield. The private visit as arranged as Jim's health is beginning to fail and although he has supported Liverpool all his life he had never visited the ground. During the visit, he was shown around the ground all the players changing rooms and had a fantastic day out and in his words, he will remember the visit for the rest of his life. He was also presented with a Liverpool watch to mark his visit. A short potted history of Jim's life. He is married to Dilys and has Alison and Angela as stepdaughters and John Brendan and Tony Mcguire as his stepsons. His mum delivered beer around Holyhead from a horse and cart and his Dad worked as a chef. He was in the army and landed on the D day landings and during his travels met Monty whilst serving in France during the second world war. After the war, he worked on the lighthouses and loves a small whiskey. If you could put his picture on old.holyhead.com it would make him and his family very happy.
Mayor Of Holyhead Cllr John Chorlton presenting Allan Williams with his award In Recognition of Outstanding Achievement
in Services to the Community with the Holyhead and District Round Table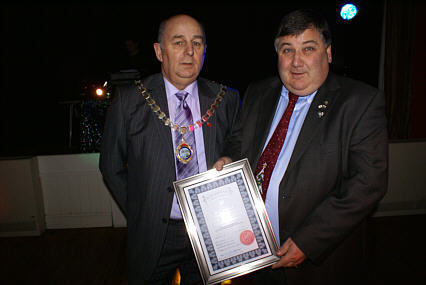 Mayor Of Holyhead Cllr John Chorlton presenting Richard Parry with his award In Recognition of Outstanding Achievement in Services to the Community with the Holyhead Hotspur Football Club